Green Grove (1899 – 1906)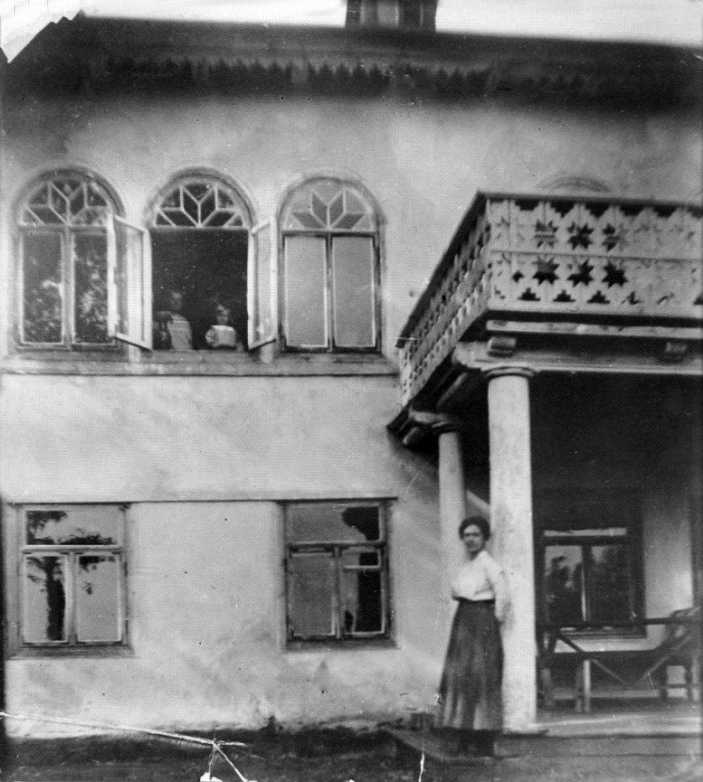 Cottage of Olga Petrovna Kosach (Olena Pchilka)
at Green Grove near Gadjach
Green Grove is an area on the banks of the Psel river below Gadjach.
Opinion on the acquisition of this estate (then it was called Golubivschyna) O. P. Kosach first expressed in the letter from Dec 7, 1894 to her mother – E. I. Dragomanova (hereinafter – dates of Julian style).
Lesja Ukrainka first visited the place on July 8, 1898, it was made there group photo. At this time, the house was only being constructed and was completed only in the early summer of 1899.
Later, Lesja Ukrainka spent the summer months in Green Grove for several years:
– 1899: from June 24 to the beginning of September;
– 1900: from May 4 (approximately) to September 2..12.
– 1902: from June 18 to August 25.
– 1903: from June 15 to September 5.
– 1904: from June 4 to September 12.
– 1905: from July 5 (approximately) to the end of August.
– 1906: from May 21 (approximately) to (apparently) the end of August (August 4 – still in the Green Grove, then September 11 – already in Kyiv). This year a lot group photos with Lesja Ukrainka had been done.
In addition to her relatives, Lesja Ukrainka was visited in Green Grove by her friends (Sergey Merzhinsky, Olga Kobylyanska). She has written many works here.
In 1918, locals for the gratitude to the merits of Olena Pchilka and Lesja Ukrainka destroyed this manor, so that no chips remained.
---
Additional photos