The house in Odessa (Zhukovsky str., 29; 1888 – 1889)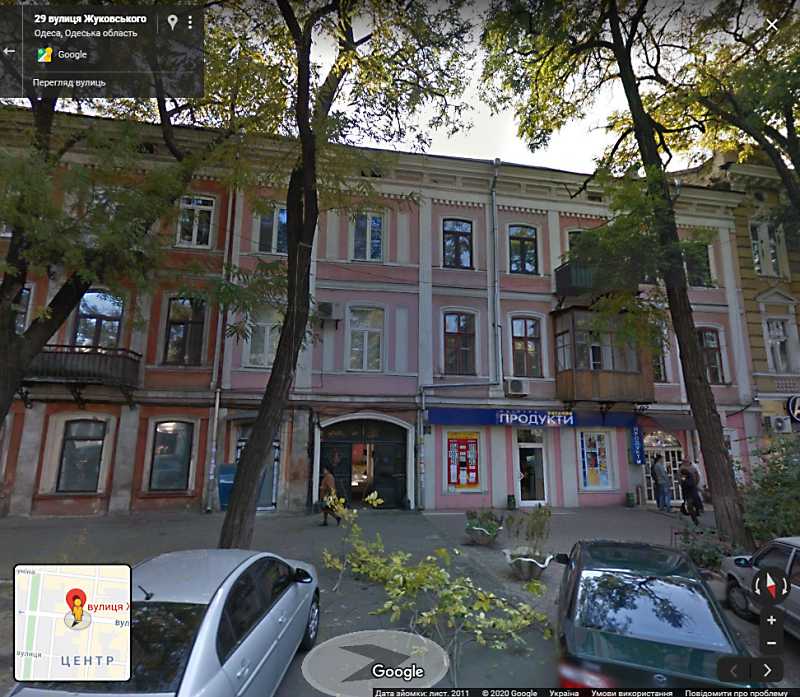 Apartment building in Odessa on V. Zhukovsky street, 29
Google Panorama Photo (November 2011):
At the beginning of July 1888 P. A. Kosach with Lesоa Ukrainka left Kovel to Odessa (for mud baths in the Khadzhibei estuary).
They traveled by train from Kovel through Kivertsi, Rivne, Zdolbuniv, Slavuta, Shepetivka, Polonne, Berdychiv, Kozyatyn, Vinnytsia, Zhmerynka, Razdelny. Impressions of the road are described in the I – IV poems of the cycle "Travel to the sea».
In Odessa, they stayed in the family of Mikhail Komarov on the Postal street No. 27 (now – V. Zhukovsky St., 29). Since then, Lesja has become friends with Margarita Komarova (Michael's daughter). Not naming her, Lesia mentioned Margarita at her poetry.
For the second time Lesja Ukrainka lived in this house two weeks after treatment at the Khadzhibei estuary (approximately the second half of August 1888). At that time she and her mother and Komarov family traveled by boat to Ak-Kerman, inspected the fortress. After that Lesja with his mother returned to Kolodjazhne.
For the third time Lesja Ukrainka lived in this house for a short time (about 10 days) in late August 1889 after following a second course of treatment in the Khadzhibei estuary. At this time she and her relatives and the Komarov family went to Ak-Kerman for the second time, where they lived for three days. The same days it was done photo Lesja Ukrainka with Mikhail Kosach and Margarita Komarova. After that, Lesja with her mother and sister Olga returned to Kolodyazhne.
---
Additional photos