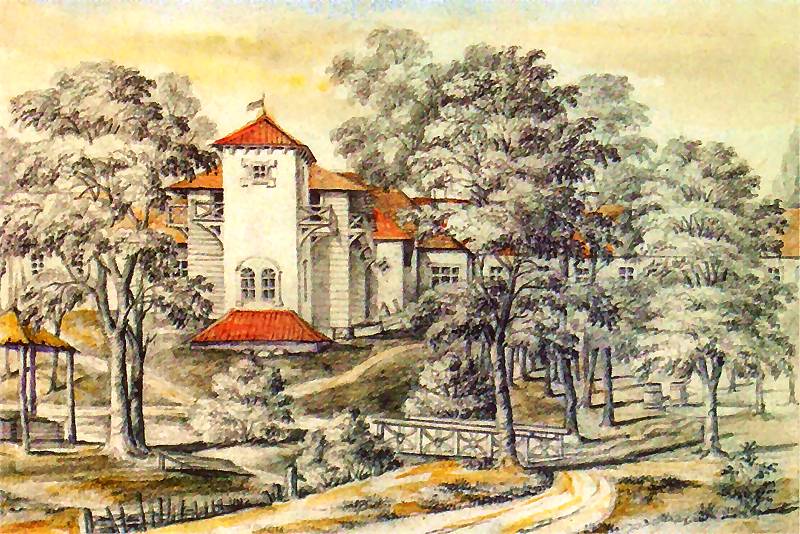 The resort house in Druskininkai. Drawing by N. Orda, 1868
Filed by edition:
The mother brought Lesja Ukrainka to the famous resort in Druskininkai on June 15, 1885. They stayed here until August 1, 1885, when they returned to Kolodjazhne.
Myroslav Moroz submitted their arrival date as June 3 [Moroz M.O. Chronicle of the life and work of Lesja Ukrainka. – K.: 1992, No. 105]; it seems to us that he took the date given by Olga Kosach-Kryvyniuk as Gregorian and mechanically translated it into Julian.
The catalog provides the following information about the drawing of Napoleon Orda:
Druskieniki. Łazienki zdrojowe.
Widok parku i budynku zdrojowego. Napis: «Łazienki w Druskienikach»; napis na podkładzie: «G. Grodzieńska Druskieniki, Łazienki; napis na kartce doklejonej do podkładu: Druskieniki nad Niemnem i rzeką Rotniczanką. Gub Grodzieńska. Wody mineralne i Solne – Był tu zamek zdobyty przez Krzyżaków r. 1312. Zbiera się tu corocznie znaczna liczba chorych szukających zdrowia. Tu pospólstwo mówi własnym sobie językiem litewskim. 1868.»
Rys. ołówkiem podmalowany sepią i akwarelą. 18,2 x 25,8 cm. Muzeum Narodowe, Kraków. III-r.a. 4330. (Teka Grodzieńska).
[Katalog rysunków architektonicznych ze zbiorów Muzeum narodowego w Krakowie. 1. Rysunki Napoleona Ordy / Opracowały Zofia Kucielska i Zofia Tobiaszowa. – Warszawa: Państwowe wydawnictwo naukowe, 1975, Nr. 152]